I had a revelation from God's Word the other morning. It came through very familiar passages I was meditating on. I thought I'd share it with you.
(But, I must warn you, if you continue to read, then you are responsible for what you just learned.)
Ut oh....
You can click out of this blog right now.
Ut oh... (LOL)
Or you can forge through to read what The Spirit may be saying to you, as He did to me.
Or do you not know that your body is the temple of the Holy Spirit Who is in you, Whom you have from God, and you are not your own?

~ I Cor. 6:19
And He said to them,
"It is written, 'My house shall be called a house of prayer...'
~ Matt. 21:13
My House. MY house. MY HOUSE.
Since my body is the "house" of The Holy Spirit, then His house (ME!) should be called a house of prayer. I should be yielding to The Holy Spirit to intercede through me. After all...
Likewise the Spirit also helps in our weaknesses. For we do not know what we should pray for as we ought, but the Spirit Himself makes intercession for us

with groanings which cannot be uttered.

~ Romans 8:26
Whenever HE wants. Whatever hour HE wants. Wherever HE wants. Afterall, He is the Master of His own home.
When my adult son visits, I have to remind him to put the toilet seat down, to not throw cigaret butts all around the property, etc. Why? Cause I'm the "master" of my home.
My body - my being - is The Holy Spirit's home. He should be the Master of His own Home.
Therefore, He should be the Master of me in all areas of my life.
On my last post, I asked The LORD to reveal to me anything that displeases Him. Well, He did. And praying wasn't the only thing He showed me about myself.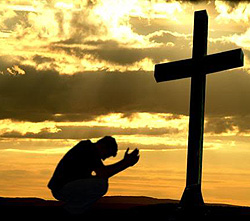 Oh, God, pour out Your Grace to me to empower me to make these changes in my life. In Your Home. Help me to clean up Your House. Your Temple.
And to anyone who may read this post who has been convicted of something.
Thank You for Your Word, that brings correction to those who have ears to hear and a heart that lies prostrate before You.
Because of Him and Unto Him,